Vancouver innovators and innovation enablers who wish to be part of INNOVATE® Vancouver still have time, but will need to move quickly. They can visit https://innovationsoftheworld.com/ecosystems/innovate-vancouver/ for more information.
TAMPA, FL / ACCESSWIRE / March 24, 2020 / 'INNOVATE® volumes are like conferences in book form,' says Sven Boermeester, founder and CEO of Global Village Ventures. 'They're also a little like speakeasies in the sense that they're exclusive. We're after the best and brightest, and when we find them, into the book they go-and it's especially exciting to have another Canadian INNOVATE® project.'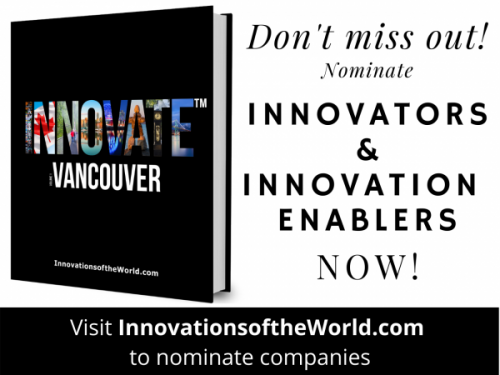 (Are you an innovator or innovation enabler we haven't yet found? Get in touch here: https://innovationsoftheworld.com/ecosystems/innovate-vancouver/.)
The INNOVATE® Vancouver tribe includes companies like leading fan-based marketing platform Tradable Bits (which has over 17 million monthly users); East Side Games (named a Technology Fast 500 by Deloitte and a leader of indigenous prosperity in BC by BCBusiness); Starling Minds (a digital cognitive behavioral therapy platform for employees); and noise- and pollution-less power provider Portable Electric (whose VOLTstack product moonlights in the latest James Bond film), among many more.
Considered for decades to be 'Hollywood North,' and now the second-largest VR/AR ecosystem in the world, Vancouver is also home to a robust life sciences sector, proving itself to be a city with beauty and brains. With internationally recognized research hospitals and universities such as the University of BC and Simon Fraser University, Vancouver and the Lower Mainland boasts an exceptional workforce in industries like animation and VFX, game development, blockchain, biotechnology, and telecommunications-becoming an innovation playground for top-notch sectors.
Clean-tech has been a pillar, too; long before Vancouver made a pledge to become the Greenest City 2020 with its Vancouver Green City 2020 Action Plan, nonprofits such as Greenpeace and the David Suzuki Foundation were established here, along with companies leading the way in green-tech, resource-management technologies, clean transportation, and renewable energy, just to name a few.
What makes Vancouver equally attractive to businesses is its strong governmental support in the form of small-business grants, enticing corporate tax benefits, and organizations like Innovate BC-which will be featured in INNOVATE® Vancouver.
'Vancouver is a young, picturesque city with a reputation for being progressive and future-centric, but above all, for being inviting-not only to commerce but also to a new generation of business owners determined to positively impact both the economy and the environment,' says Ruby K. Sandhu, publishing partner for INNOVATE® Vancouver. 'Social impact, circular economy, and renewable energy solutions are included in numerous company mandates, and it makes me extremely proud to showcase within INNOVATE® Vancouver all the things we are doing right-now and for future generations.'
With the support of Innovate BC, INNOVATE® Vancouver is coming together quickly. An entrepreneurial support organization offering funding, expertise, and connections to innovators in B.C.-and perhaps best known as the #BCTECHSummit's host organization-Innovate BC has recommended nominees for companies and thought leaders to be included in INNOVATE® Vancouver. Between the organization's recommendations and Global Village Ventures' research, INNOVATE® Vancouver's pages are filling fast.
Even so, Global Village still seeks like-minded innovators and innovation enablers. 'There's always more room for awesome in an INNOVATE® book,' says Carel 'Callie' Van Graan, Global Village Ventures' COO. 'In our experience, the most memorable volumes result from some combination of top-down research, networking, and entrepreneurs who reach out to us just because they hear about the project and want to be part of it.'
That includes even small companies and startups because Global Village has eschewed the 'pay to play' method, ensuring that every INNOVATE® book represents the people working hardest and smartest to improve their region's innovation ecosystem-and the world, really.
Innovators and innovation enablers who wish to be part of INNOVATE® Vancouver still have time but will need to move quickly. They can visit https://innovationsoftheworld.com/ecosystems/innovate-vancouver/ for more information.
Once invited to join the INNOVATE® tribe, these 'INNOVATErs' work with Global Village's production professionals to design custom double-page spreads that tell their story ('Every superhero has an awesome origin story,' reads the INNOVATE® Story Requirements webpage.) The feature also includes a company's imagery, logo, and contact information. Augmented reality-videos that play inside one of the images-are also part of the package, as is a dedicated webpage on InnovationsoftheWorld.com.
It's everything that readers-that is, other INNOVATErs-would need to get in touch and make a connection.
In that vein, INNOVATE® Vancouver culminates in a launch event where those featured will meet (or e-meet) like-minded innovators and innovation enablers from all over the Vancouver ecosystem, not just others in their industry.
'Diversity of thought and a cross-pollination of ideas are some of the seeds of innovation,' says Carel 'Callie' Van Graan. 'That's what the INNOVATE® books are all about, and it's exciting that we get to foster that in a place like Vancouver. We're expecting fireworks.'
The book launch is planned for Q3 of 2020. Until then, the wildly ambitious of Vancouver can await their 'Golden Ticket'-that is, an invitation to be part of INNOVATE® Vancouver.
The INNOVATE® series started from the same entrepreneurial spirit as the companies and thought leaders it showcases. Sven Boermeester founded Global Village Ventures and began publishing the INNOVATE® series as a means of connecting the amazing entrepreneurs he came across (some of whom he spoke with only during a plane ride).
Today, the INNOVATE® series has grown to over 45 volumes with many more in the pipeline.
INNOVATE® Vancouver will join its series siblings, INNOVATE® Ottawa and INNOVATE® Montreal upon its publication later this year.
'In the last decade, Vancouver has created an impressionable mark on the global community as a city of the future, something that had been missing in the early days of technology here. Now, it boasts as one of Canada's top tech hubs with an equally greater innovation ecosystem' says Sandhu. 'We can't wait to tell readers that story through INNOVATE® Vancouver.'
To nominate a worthy innovator, visit innovationsoftheworld.com/ecosystems/innovate-vancouver/.
Learn more about Innovate BC, here innovatebc.ca.
To find out more about the INNOVATE® series and other innovation ecosystems it has showcased, visit InnovationsoftheWorld.com. To learn more about Global Village Ventures and its series, visit GlobalVillage.world.
CONTACT:
Name: Sven Boermeester
Email: Send Email
Organization: Global Village Ventures
Address: 9307 Wellington Park Circle, Tampa, Florida 33647, United States
Phone: +1-813-453-6199
Website: https://www.innovationsoftheworld.com
SOURCE: Global Village Ventures
View source version on accesswire.com:
https://www.accesswire.com/582455/The-INNOVATE-R-revolution-is-coming-to-Vancouver